Our motors, Your success.
Anhui Wannan Electric Machine Co., Ltd is located in Jingxian Anhui Province, China, which is near by the famous international port—Shanghai, same distance to Nanjing, Hefei and Hangzhou. The company is one of the top leading motor manufacturers in China, as well known as "WANNAN Motor", "Wannan Electric Motor Factory". WN motor was established in 1958 and reformed as a private company in 2002. Annual sales revenue is almost 300 million USD.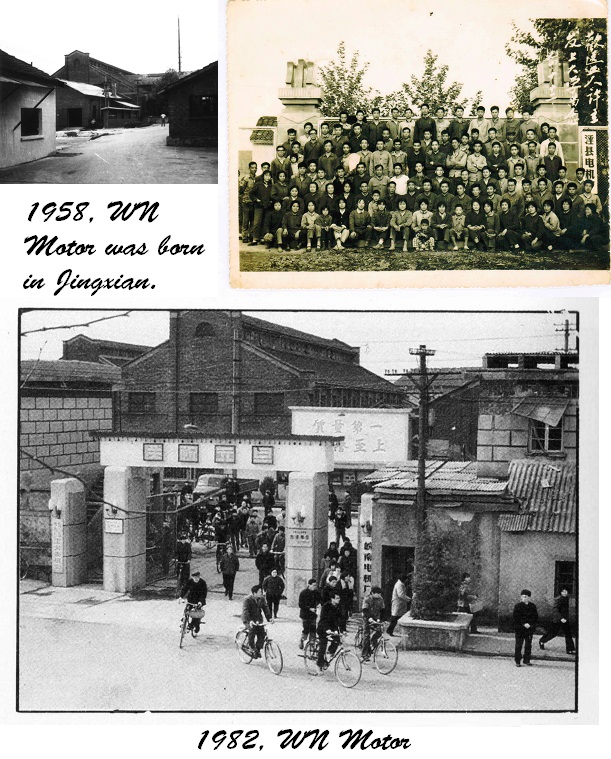 Wannan Motor has 6 production plants which is covering 450 thousand square meters, with 1800 employees, and the yearly production capacity is 20 million kilowatts, having the widest production line in China, as known as the "motor supermarket". Wannan Motor has passed ISO9001 in year 1996, the ISO14001 & 18000 in year 2005, and then TS16949 in year 2015. ERP management system was adopted in 2002. WANNAN Motor is equipped with many advanced equipments such as CNC machines, automatic production line, automatic winding and insert line, high precision and high speed blanking line.
2004, set up a new production plant Anhui Weineng Motor, mainly producing medium and high voltage motor.
2006, set up a new production plant Anhui Wannan Xinwei Motor, mainly producing fractional HP motor & aluminum shell motor.
2009, set up a joint venture factory with a Japanese company Anhui Taiwei Electric, and introduced Japanese-mechanized manufacturing and management. Mainly producing JIS stardard motor.
2010, set up a new production plant Anhui Tonghua New Energy Power, mainly producing NEMA series stainless steel motors; Air conditioning motors; Dust explosion-proof motors and some high-end customized motor.
2017, set up a new automatic production plant Anhui Wannan Electric Co., Ltd.

2018, set up Anhui Wannan Electric Machinery Science and Technology in Hefei city. Mainly researching and developing motors and developing internal and external markets.
Major Products
Frame sizes are from 63mm up to 1120mm, available from 0.12kW up to 6000kW. The IE2 & IE3 motors certified by CE, CCC and China Energy Conservation Product Certification (CECP), NEMA motor approved by CSA safety and energy certificate and got the EE number from the United State Department of Energy (DOE). All the explosion proof motors are certified by China National explosion-proof electrical product quality supervision and inspection center (CNEX).
l IEC standards (China national standard) full line IE2, IE3 & IE4 high efficiency motors
l IEC standards (China national standard) inverter duty motor, brake motors and the explosion proof motors
l NEMA standards Epact efficiency & Premium Efficient motors
l JIS standard IE2 & IE3 high efficiency motors.
l China national standard high voltage induction motors and slipring motors
l DC motors
| | | | | |
| --- | --- | --- | --- | --- |
| | | | | |
| | | | | |
Wannan Motor has the strongest technical development and test capability in China electric motor industry.The company has more than 200 engineers and 161 patents. Wannan Motor is the national high-tech enterprise, has a state-recognized enterprise technology center, Anhui provincial automotive electric motor technology research center, Postdoctoral research station, CSA approved and CNAS approved Full Load Type Test laboratory. The type test laboratory is equipped with many advanced equipments such as 3D printer, three dimensional scanner, vision measurement, three-coordinates measuring machine and so on.
Market
The market share of Wannan Motor is about 85% domestically and 15% for export. There are more than 120 sales offices all over China. The export markets cover Asia, North America, South America, European, Southeast Asia, and Africa countries, such as Japan、Korea, USA, Canada, Peru, Chile, Argentina, Germany, Russia, turkey, Thailand, Viet Nam, Malaysia,Indonesia, South Africa and so on.
WANNAN Motor insists to accomplish one task only, making high level of quality products environmentally friendly. Now the company is equipped with sophisticated designing and manufacturing for high efficiency electric motors, medium voltage motors and more importantly, it has the capability to develop special application electric motors according to customers' different requirements.
WN Motor, Industrial Solutions.
ADD: No.86 Nan'hua Road, Jing County, Anhui Province, China
TEL: +86-0563-5031948
FAX: +86-0563-5028878
EMAIL: info@wnmotor.com